Terry L Anderson
Home: Bernardsville, NJ 07924
Voice: 908 766 4463
terry@TerryAndJan.net
(tla before the trim or before the haircut J)
---
What's New
How To Live Healthfully
My current activities include kayaking both in New Jersey and in the San Juan Islands (Washington State) especially near Whidbey Island. See some of my Kayak Logs (klogs). I have a 14 foot Necky in NJ and a 18 foot Eddyline Falcon S18 in Washington.

I also bike in NJ and Whidbey. I have a road bike in NJ and a cyclo-cross bike on Whidbey (suitable for pavement or dirt roads).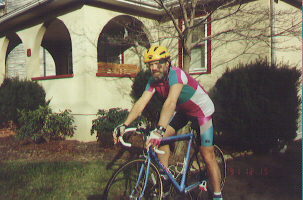 Other Stuff

Credits

The background for this page was done by my daughter Katherine.
The photo is of me on my Trek 1420.
"tla before the trim" is several winters ago. It grew from about Holloween to First day of Spring. My wife won't let me grow it that long again. "before the haircut" is actually Tom Baker, Doctor #4 from Dr. Who.

CyberHome

I primarily live on a Dell Studio 9100 with a quad-core i7 running Windows 7. When I travel on business I live on a Dell Latitude E6400, otherwise I make do with a Acer Aspire One netbook. Sometimes I travel very light and live only on a Droid 2 and a Xoom pad. I also live on these when my body lives at my west coast house on Whidbey Island where I stay connected using a 0.5 mile WiFi backhaul link to a friends house (two dishes running 802.11G with Super G Turbo for a 108 Mbps connection). When at home I use an HP C6380, a Panasonic GF1 digital camera (14-45 mm zoom and 45-200 mm zoom - each equivalent to double that compared to 35mm lenses), a Sony CyberShot DSC-W120 (when I want to be lighter weight) and a Minolta DiMAGE Scan Dual III (AF-2840) film scanner. My wife, Jan, uses a Dell Inspiron and everything is networked together by ethernet or Lincsys N wireless network. Finally it is connected to the Internet through firewall/router and Verizon FIOS (fiber to the home) (ab out 10 Mbit/sec).
My preferred email address is tlatla@verizon.net
Biography
I am currently a Staff Scientist at ITT Industries. I am a software engineer working on wireless radio networks carrying voice, data and other media streams.

From 1986 through 2002 worked at Lucent Technologies (previously AT&T), most recently working on on IP Telephony (aka Voice over IP or Internet Telephony). I am a Rapporteur in Study Group 16 of the International Telecommunications Union where I am responsible for several standards documents relating to internet telephony. But in the fall of 2002 I was "downsided" along with my entire project so am currently looking for a new home for my work. I have previously worked on application generators, simulation and modeling, performance modeling and measurement, programming tools, documentation management tools (e.g., add-on to FrameMaker and MS Word), and software architecture consulting.

Prior to 1986, to that I taught Physics and Computer Science at Walla Walla College, in College Pace, WA, where I helped to create the Computer Science department. I have a PhD in Theoretical Physics with emphasis in Relativistic Astrophysics.

I have a wife, and one daughter, Katherine, a graduate of Dartmouth College and currently teaching middle school English.


When not adding to this website, surfing the web or working on wireless communications, I am often riding the hills of western NJ on my bicycle (a Trek 1420, shown above) or kayaking.