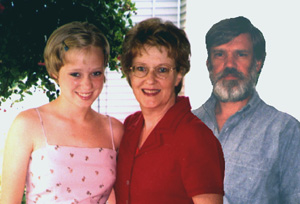 The Anderson's
Merry Christmas
from the Anderson's
The Millennium, big New Year's celebrations, Y2K and associated computer problems all seem to be overshadowing Christmas this year (though the mathematician in me says they are all a year early – it hasn't been 2000 years from the arbitrary year 0 until the end of 2000, but …), but we are happy for the holidays and having our daughter with us again for nearly a month (Dartmouth has an unusually long Christmas break).
We did not have a "White Christmas" this year. In fact we've had little snow for the last two winters. There were rumors, that proved unfounded, that there may be flurries one of the days just before Christmas. It was cold enough but no moisture. But as I finish writing this (late as usual), two days after Christmas there are a few lonely flakes drifting in the breeze.
Tonight we will be taking our annual trek, with a about 20-30 other "Bell Labs" folks to see Peter Schickele's annual PDQ Bach concert at Carnegie Hall (he no longer tours so only New Yorkers get to see him). This year's premiere is a string quartet called "The Moose," S. Y2K. Our group takes three or four entire boxes on Dress Row each year. We've been with the group each year but one since we moved here 14 years ago. The group has been going annually for over 20 years.
We hope at each of you are having a great Christmas and wish you a very happy year in the coming century (or the last year of this one).
---
The YEAR 1999
Winter
New Jersey's recent unusually mild winters continue – I don't miss shoveling snow but this hardly seems like winter.
Katherine enjoying life as a senior but still has lots of class work.
Jan continues participating in her monthly book club.
May
Jan unwillingly turns 51.
June
Katherine graduates from Bernards High and starts (or continues) thinking about Dartmouth in the Fall. Pictures on our website.
Jan plans a lovely graduation party/barbecue honoring Katherine, attended by neighbors, friends and classmates.
Lucent completes purchase of Ascend which has a more established Voice over IP (Internet Telephony) program than Lucent and so Terry's department is merged into the equivalent department in Ascent – new boss, new procedures, slightly different job assignment and a lot of confusion for awhile, but I am quite happy with the result - now. I've moved quickly into interesting and valued assignments.
Jan continues her interest in pottery with classes and studio time at a nearby arts center – continued throughout the year (we have bowls and cups everywhere in the house!).
Terry buys a kayak primarily for use on small rivers in New Jersey. I can get it on and off the car alone and so it is more suitable for solo trips than our canoe (now that Katherine will be leaving and Jan doesn't want to go as often as I).
July
Terry takes a five-day backpacking trip, hut-to-hut through the White Mountains of New Hampshire, along the Appalachian Trail. Pictures and diary on our website.
Katherine turns 18.
Jan tries to keep flowers and shrubs alive by hand watering twice a day during New Jersey's worst drought in decades.
August
We take no family vacation this year – too busy getting Katherine ready for college and other distractions.
September
Jan begins her 28th year of teaching.
Katherine leaves for a freshman ('shmen) orientation trip, four days of hiking, rock climbing, … sponsored by the Dartmouth Outing Club.
A week later Katherine moves into dorm and begins her freshmen year at Dartmouth, taking Neuroscience, Philosophy, and a Freshmen Seminar combining math and philosophy. No major selected yet.
Remains of Hurricane Floyd hits New Jersey. Bernardsville gets 14" rain in 1-1/2 days. Many New Jersey counties declared flood disaster areas while still under a declared drought emergency. We get a little water in the basement and 14 hrs without electricity but nothing like nearby Bound Brook whose downtown is under about 15 ft of water.
Terry takes a five-day bicycling trip in Vermont's "Northeast Kingdom". Inn to Inn biking at the peak of fall colors, near the Canadian border. Pictures and diary on our website.
October
Terry and Jan spend a long weekend with two other couples at a cabin on a lake in the Adirondacks – a bit of hiking, canoeing, kayaking, reading, eating and visiting.
Terry passes 1500 miles biked for the year.
November
Terry is beginning to travel a bit more on business. A week early in the month at Keystone Resort in the mountains above Denver (tough assignment). After Colorado he flies on to California and spends a week with his folks who now live in a retirement center in St. Helena.
Jan spends a long weekend visiting her sister and parents in Tennessee.
December
More business traveling for Terry. A week in Portland the week after Thanksgiving. Jan flies out to meet me in Seattle and we spend the weekend with friends (Dickson's) who have a house on Widbey Island (just north of Seattle) with a great view over the Puget Sound, Olympic Mts and the lights of Victoria. We talk, walk the beach and enjoy great food. We are considering buying property in the area.
Future business travel includes two weeks in Geneva in February and a week in Japan in May.
Terry's father battles acute pneumonia, spending two weeks in the hospital but is now home and recovering nicely. His Parkinson's Disease made recovery more challanging.
---
Katherine began her freshman year at Dartmouth College (Hanover, New Hampshire) in September. She is enjoying it immensely and doing very well. She has two roommates, one from Manhattan and one from Hawaii and lives in a nice, large room, in a 1890s building with a fireplace in each room (of course that is not "old" for the ninth oldest college in the country, founded in 1769).
We continue to be active in the SDA Forum chapter that meets at Columbia University (this is the chapter's 30th year) and Terry is serving on the steering committee of the Adventist Metro Federation, a North American Division-sponsored group exploring new approaches to evangelism of unreached demographic groups in the New York metropolitan area.
We continue to enjoy life in New Jersey with access to excellent dramatic theaters and music, great bicycling, spectacular fall colors and easy access to all the resources of New York City.
If you find yourself attracted to the New York City area or planning a visit, come and see us. We even have a spare bed most of the time now that our daughter is away at Dartmouth. There is convenient train service from Bernardsville to NYC.
Website – Visit our website (below) for pictures and more about some of the events listed.
Jan, Terry & Katherine
Anderson
24 Hill St
Bernardsville, NJ 07924
908.766.4463
e-mail: tla@lucent.com
justjanand@aol.com
katn@dartmouth.edu
http://www.gti.net/tla